Evaluate the features of the S5D3 MCU with the YSTBS5D3E10 Target Board Kit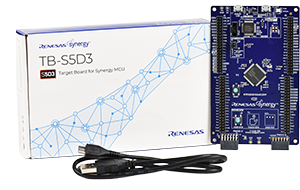 Experience the best-in-class features of the Synergy S5D3 MCU Group with access to all pins, standardized expansion ports, and preinstalled demo software with the YSTBS5D3E10 Target Board Kit. The S5D3 MCU Group is the latest addition to the Synergy Family of MCUs with robust, layered security features ready to enable advanced and scalable security management for endpoint devices in IoT systems.

Key Features:
Accelerate code development with the tightly integrated and qualified Synergy Software Package (SSP)
View, step through, and debug code with e² studio ISDE from Renesas or IAR Embedded Workbench® for Renesas Synergy™
Flexible connectivity options with USB and Pmod™ connector enabling rapid prototyping with plug-in modules
Human Machine Interface (HMI) functionality with a Capacitive Touch Sensing Unit and user pushbuttons
Fill out the form for your chance to win a free YSTBS5D3E10 Target Board Kit!
This promotion has ended.