White Paper: ISL8282/80/12/10M Power Modules Achieve Superior Load Transient Response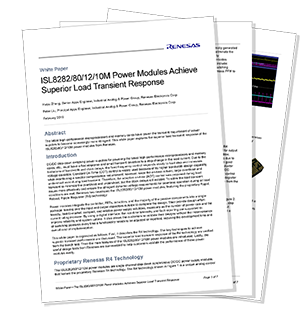 As a leading supplier of advanced semiconductor solutions that spark innovation for a connected world, Renesas offers a comprehensive portfolio of both analog and digital power modules to address the needs of industry applications. The ISL8282/80/12/10M power modules, featuring the proprietary Rapid, Robust, Ripple Regulator (R4) technology, are the latest addition to the Renesas portfolio that effectively solve load transient issues to ensure the stringent dynamic voltage requirements for seamless operation for all load conditions. This white paper explores the superior load transient response of these new power modules and how they allow users to validate designs without the inconvenience of switching passives when functionality needs to be adjusted or modified, reducing the development time and overall cost of implementation. Summary:
R4 technology and key techniques to achieve superior load transient performance
Main features of the new ISL8282/80/12/10M power modules
Useful design tools from Renesas: Evaluation Board with User Guide, PowerNavigator™, PowerCompass™ Multiload Configurator, and iSim™ Design and Simulation Tool
Complete the form to download the white paper.