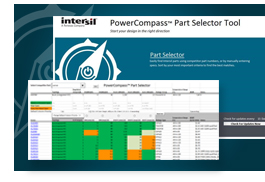 The PowerCompass™ Part Selector Tool allows you to take a BOM (bill of materials) of power parts and quickly generate a list of comparable Intersil parts. The tool compares the parametric data of competitor devices and Intersil devices, and presents a logically sorted listed of which Intersil devices perform the same function as the competitor devices. Find Matches
See which devices are As Good, Better, Near Spec, or Outside Spec Limits to quickly make decisions on the best fit parts for your needs. Enter Specs Manually
If you don't have a competitor part, or you simply want to enter the specs manually, you can easily do so, and get the same best fit part display. Looking for the PowerCompass™ multi-rail configuration tool? You can use PowerCompass online or offline with the web app.
Fill-in the form to download the tool