White Paper: Reduce Size, Weight and Power of Telecommunication Payload and Satellite Command/Telemetry Subsystems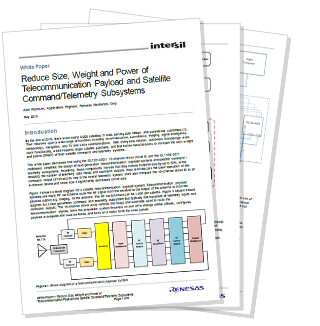 This white paper discusses how using the industry's first rad hard, high-voltage, high-current ISL72814SEH 16-channel driver circuit IC simplifies the design of next-generation telecommunication payload systems and satellite command/telemetry subsystems, and how it reduces footprint size by 50% while doubling telemetry data inputs and command outputs. The basic operation of the command output circuit will also be discussed, as well as comparing the 16-channel driver IC to an 8-channel device to demonstrate how it significantly decreases circuit size. White Paper Summary:
An introduction to telecommunication payload systems and command/telemetry subsystems
The operation of a satellite's command output circuit and how the ISL72814SEH operates within it
The various advantages of the new driver design and how it offers more than a 2:1 footprint reduction over an old design
The benefits of the new telemetry system design and elements contributing to mission assurance
A summary of SEE testing results
Complete the form to download the white paper.