White Paper: How to Deploy a LoRa®-based Network for your IoT Application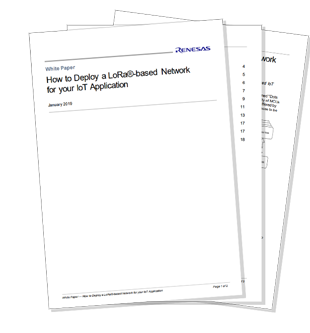 The LoRa-based IoT solution developed by Renesas and Medium One leverages the advantages of a LoRa network, the RX family of MCUs developed by Renesas, an array of powerful sensors, and the cloud solution offered by Medium One to provide smart sensor-rich nodes sending data over long distances to be monitored and analyzed in the Cloud in real-time. The goal of the Dots on a Map solution is to provide the user with rich sensor data from a widespread set of locations that may not be reachable with normal Ethernet, WiFi, or even cellular uplinks, without requiring an expensive infrastructure. Summary:
Benefits of LoRa
Applications for Dots on a Map
Sensor and gateway nodes
Renesas IoT sandbox and user portal
How to deploy
Complete the form to download the white paper.